New gradient fill presets
Select any of the 24 available gradient types and create beautiful embroidery designs. Blend different stitch colors easily by applying different gradient types on overlapping stitch objects.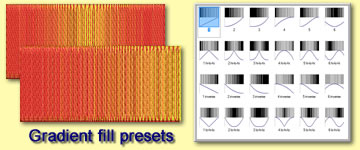 2 point copy objects
With the 2 point copy option you can easily create duplicates of your designs in the size you want. It is a very useful tool that can save you time and add perspective to your designs by playing with their sizes.

View your designs easier by using the Auto Pan functionality of the middle mouse click.
While you are working in the design area you can use the middle click (click the roller in) and switch to mouse pan mode. By moving the mouse towards the area you want to view, the view port changes smoothly and helps you navigate to your design without having to change zoom level.
Use the mouse wheel on any tool and make changes quicker and easier
The software recognizes the position of the mouse cursor and uses the roller on the specific tool that you are located.